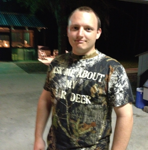 2000-2004
Back in New Mexico, Jonathon Harper seemed to stay in trouble. He was defiant and didn't want to play by the rules at school, but when he wasn't allowed to walk with his class at 8th grade graduation because he'd spent three-quarters of the year in ISS (In School Suspension), Jonathon decided it was time for a change. His great-uncle, Carlton Spence, had been telling him about this place in Florida called Rodeheaver Boys Ranch, and his cousin, Steven Harrison, had been to the Ranch, come home, and was ready to return … so, about a week after 8th grade was over, 14-year old Jonathan Harper boarded a plane with his cousin and flew into a brand new life.
Life on the Ranch was a shock at first. Jonathon had been used to pretty much being his own boss at home and doing whatever he wanted to do. The structure and discipline of the Ranch, the daily chores, regular worship, and expectations of respect and obedience were hard to get used to, but soon, he began to reap the benefits in better grades, new friends and new experiences. Best of all, he got involved in scouting. "I learned about goal-setting when I started working on becoming an Eagle Scout and I finally did it right before I turned 18!" he says proudly, remembering his Eagle Scout project of remodeling the house of the Ranch's office manager, and of helping on another special Eagle Scout project that involved building a children's playground at Palatka Baptist Temple. It was at that Baptist temple that he met his future wife, Mandy.
One of the Ranch's first Eagle Scouts, Jonathon graduated from high school with a 4.0 grade point average in his senior year and went on to graduate from ITT Technical College with a degree in computer engineering. Now living the good life with his wife, Mandy, and their children, Jayden and Ashlyn, Jon Harper thanks God daily for the blessings he received at Rodeheaver Boys Ranch. He backs up his gratitude by annually spending quality time with the boys of the Ranch. Whether on camping trips to Philmont Scout Ranch in Cimmaron, New Mexico, or on hunting trips to Carlton Spence's Bitter End Plantation in Ridgeland, South Carolina, Jon now gives back as a role model for the boys and a spokesman for the Ranch.
"Pretty much, I talk to the boys about weighing their options and looking beyond the present to the future. I try to get them to see how good they have it at the Ranch," says Jon. "Most of the boys don't have family that can give them the support the Ranch can, but it takes them a while to understand that. When they first arrive, their number one goal is to leave the Ranch as soon as possible. That was my goal, too, until I realized I had opportunities to do things there that I'd never have had at home."
Once an Eagle Scout, always an Eagle Scout … when Ranch Activities Director and Scout Leader, Greg Buchanan, needs help, Jonathon Harper is there. Boys like Jon come to the Ranch year after year and need the same level of support he received. Even with great volunteers like Jon, the challenge for the Ranch is to keep up the good work in the face of today's rising costs and failing economy. Can you help the Ranch continue to nurture the Eagle Scouts of today and the leaders of tomorrow? Your contribution will change lives, one boy at a time. You can help transform a failing 8th grader into a college graduate.