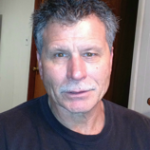 1965-1972
Orlando, Florida is the home of Disney World's Magic Kingdom, but for the Siemiatkoski kids back in the 1960's, life was anything but magic. Their step-father, an Italian chef, beat them mercilessly when he was angry and often punished them by depriving them of food. "We were so hungry, we ate the dog and cat food he put out for the animals," recalls Robert. "I was deathly scared of him." Neighbors in their trailer park regularly reported the child abuse to social services. The Siemiatkoski kids were thrown back and forth between the Parental Home for Children and the trailer park, where their step-father waited with his own evil agenda. "My step-dad was teaching us how to steal," Robert remembers. "He'd take us into stores and show us how to put things in our pockets. We were learning the wrong ways of life."
Robert was ten years old in 1965 the last time he went to the Parental Home with his siblings. When his mother and step-father came to pick up their son, Ronnie, they left the other four children at the Parental Home and took off for Connecticut. Soon, Robert was sent to Rodeheaver Boys Ranch. His older brother, Joey, came to the Ranch later, but stayed a short time before joining the Peace Corps. Theresa, 7, and Christopher, 5, stayed at the Parental Home and were eventually adopted.
Robert arrived at the Ranch with two chipped front teeth from being slammed against a bed by his step-father. Soon, his teeth were fixed and his distended, mal-nourished belly was filled with healthy food, but it took much longer for the fear to subside and the light to return to his haunted eyes.
Today, nearly fifty years later, Robert Siemiatkoski is a successful man. He and his wife, Kathy, have three grown children, Jo Leigh, Robbie and Justin, and an adored grandson, Kason. After thirty years with Seminole Electric Company in Palatka, Robert is the Electrical Maintenance Supervisor. Each year, when Seminole Electric Company hosts a special Christmas party for Rodeheaver Boys Ranch, Robert talks with the boys. A strong role model who truly knows what they are feeling, he tells them about his days at the Ranch and encourages them to trust God, listen to their cottage parents, learn the Christian values that are taught there, and concentrate on growing up to be productive men of good moral character.
Over time, Robert has completely lost touch with his older brother, Joey, who eventually joined their mother in Connecticut. Growing up, Robert missed his younger siblings. "I always had a premonition that Theresa was a nurse and Christopher was an attorney," he says. In search of his brother and sister, Robert contacted the Parental Home only to be told they had been adopted and the records were sealed. Twelve years ago, Theresa called the Ranch looking for Robert. When he contacted Theresa in Titusville, Florida, a joyful reunion followed. Theresa is, indeed, a nurse. She remains close to Robert and his family to this day, but unfortunately, they have never been able to find their little brother, Christopher. Robert even contacted former State Representative Kelly Smith to see about having Christopher's adoption records unsealed, but to no avail. The only way to get them unsealed, he was told, would be if it were Robert's death-bed wish to find his brother. "I don't want to have to die to find Christopher," he says. Robert hopes and prays that Christopher will see or hear about this story through social media, and that he will contact Rodeheaver Boys Ranch like Theresa did.
Talking about his years at the Ranch brought back special memories for Robert. Somewhere on the Ranch there are still two class rings bearing the initials RES … "I lost the first one bailing hay, bought another one and lost it picking corn in our garden down by the river," he remembers. "I couldn't afford a third ring, so I never did have a class ring from Palatka High School." Robert is still convinced that he and a bunch of other boys saw a UFO while playing football under a full moon in front of Phillips Cottage one night, and he remembers learning to repair cars by working on an old Edsel that they fixed up and then drove around the Ranch. Kathy Siemiatkoski looks over at Robert, covering his hand with hers. "Robert's eyes sparkle when he's excited," she says fondly. "I want to see the sparkle in those eyes when he finds Christopher!"
Today, there are boys at the Ranch whose eyes are still haunted by harsh memories. Won't you help bring a sparkle to their eyes by supporting the good work the Ranch does for boys like Robert who need food, shelter, love and guidance?