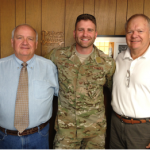 1996-1999
Ken Johnson, Timothy Officer, Steve Watkins
As he sat alone late at night in the Chapel at Rodeheaver Boys Ranch on Sunday, September 15, 2013, Timothy Officer opened the Bible and began to read the familiar verses of John 3:16 (For God so loved the world, that he gave his only begotten Son, that whosoever believeth in him should not perish, but have everlasting life.) and Jeremiah 33.3 (Call unto me, and I will answer thee, and show thee great and mighty things, which thou knowest not.). For the first time, the words filled him and he understood. For the first time, Tim felt the living presence of Jesus Christ and knew his life would never be the same again.
"It took me 17 long years to come back and find what was here all along," marveled Tim the next morning when he visited his mentors, Ken Johnson and Steve Watkins. "The Lord was always pulling me back here, but I was afraid."
Afraid? Timothy Officer … afraid? No way! A fearless, courageous, hard-charging member of the Air Force's elite First Ranger Battalion strike force with many dangerous missions behind him, including five in Iraq and five in Afghanistan, the young former Ranch boy is a hero. In the eyes of Johnson and Watkins, Tim is a shining example of success – a young patriot who bravely puts his life on the line for his country and credits the Ranch for giving him guidance and direction as a boy.
So, what was it about coming back to the Ranch that struck fear in Tim's heart? "I was afraid that these two great men of God would see right through me to the emptiness inside," he admits. "I wasn't the man they thought I was. Inside, I was still that kid who came to the Ranch 17 years ago."
A troubled 14-year old youth with a bad attitude, Tim came to the Ranch from Mildenhall, England in 1996 at the recommendation of a pastor at Lakenheath Air Force Base, where his dad was stationed. As a "military brat," Tim was used to new faces and new places. He adjusted easily. He knew how to flash that smile and get people to like and trust him, and he knew he was smarter than anybody at this hick ranch way out in the middle of nowhere. Athletic, well-spoken and personable, Tim was soon quite popular with Ranch staff and boys alike. "I was always a sociable person," he says, "I knew how to make a good impression, but inside, I had complete disregard for authority. I was selfish and didn't care about anything but me."
Three years at Rodeheaver Boys Ranch gave him the structure he so desperately needed and taught him about hard work and self-discipline, but there was a wild streak in Tim. He wasn't afraid of anything or anybody. He craved adventure and took risks that would have terrified other kids his age. When he went into the United States Air Force Special Operations component right out of high school, he found that "basic training was a breeze after Rodeheaver Boys Ranch."
Since 2000, Tech Sgt. Timothy Officer has distinguished himself as an elite warrior, one of only 50 such men in the U.S. Air Force. "It's been an exciting challenge over the years to meet the high expectations of Mr. Johnson and Mr. Watkins back here at the Ranch," said Tim, "They thought I was a knight in shining armor, but I wasn't. I fought for my country, volunteered with the homeless, worked at Habitat for Humanity, did all the right things, but deep down, I was doing it for me. I was totally exhausted with sin. I would come back from a night raid filled with death and noise and terror, and walk into my apartment at 2 a.m. all alone. I was dead inside. There was really nothing to live for except the next adventure."
Meanwhile, back at the Ranch, the Chapel where Tim spent so many hours as a boy was still there. At age 31, the young champion re-entered that sacred space and came out a new man. "On September 15, 2013, I became a warrior for God," said Tim. "If it hadn't been for the faith Mr. Johnson and Mr. Watkins put in me, I'd be face-down in a gutter somewhere. Instead, my life is now filled with purpose. I'm fighting on a brand new battlefield for something bigger than me."
"We've always loved Tim and so has God," says Ken Johnson. "He's what this Ranch is all about – building men who are physically, emotionally and spiritually fit. What a joy it is to know we've helped build a young servant leader like Tim."